Our scrappy team at Voterheads could use your help!  We have a couple noticeable gaps in our founding team that we feel like, once filled, will help make us the platform we want to be, helping people and organizations across the country better engage with their local government.
We're looking for a few new co-founders that could help fill these roles.  Like the rest of the co-founders, you'd be unpaid (did we mention scrappy?) positions until we increase our revenues.  Also like the rest of the co-founders, you'd have an ownership stake in the company.   The rest is pretty negotiable for the right person.  The roles we're looking to fill are:
Front-End Development:  If you've been to our site, this shouldn't surprise you at all, and I can say it honestly since I've written 99% of the front-end code.  What we want (simple, beautiful, fun) is not yet what we have.  I'd love to hear what you think it will take.
Inside Sales:  We have a product and we have active paying subscribers.  There are thousands of potential clients out there that we can help.  What we don't have is someone who is actively making 50-100 contacts to potential subscribers every day.  This position would be set up with a generous commission-only model.  Take a look at our paid offering and its subscription levels.  If you're a go-getter with previous inside sales or technology experience that wants to not only make it rain for themselves, but in doing so make a better world, reach out.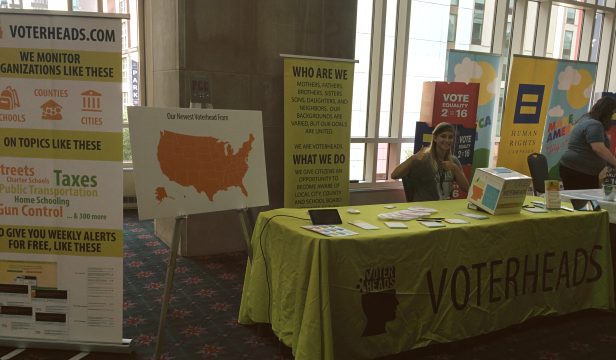 Community Engagement / Marketing:  If you get our e-mails, this also shouldn't surprise you at all.  We have a great user base that actively takes in our information and likes what we provide, but we could be delivering them a lot more value and doing a better job getting the word out.  I'd love someone with the creativity, the political savvy-ness, and the passion to going beyond simply providing the data to empowering people and organizations to more effectively engage with their local elected officials.
I'd love to hear from you.  If you're interested, shoot me an e-mail: karl@voterheads.com.  I'm happy to take questions, feedback.  I'd love to hear about you and your skills, but I'm most interested in knowing what you're passionate about and what you've done about it.