At Voterheads, we've committed to making government magically easy. We're pleased to announce for our professional subscribers two new components of reporting that will help us fulfill that mission: Recap Reports and Report Scheduling.
What's new:
Catch special meetings and last minute agenda changes
Our classic reports look ahead, telling you what's on this week's agenda. Recap Reports look back, letting you know any changes made over a period of your choosing. Some weeks, an organization might be a bit late to post their agenda. Or they might call a special meeting later in the week. How can you be sure you're capturing all the activity? Recap Reports have you covered.  
Let's say it's Thursday morning and you want to check to see if any new meetings have been posted since your Monday alert.  Simple run a 'Newly Created Events' report for the last 4 days.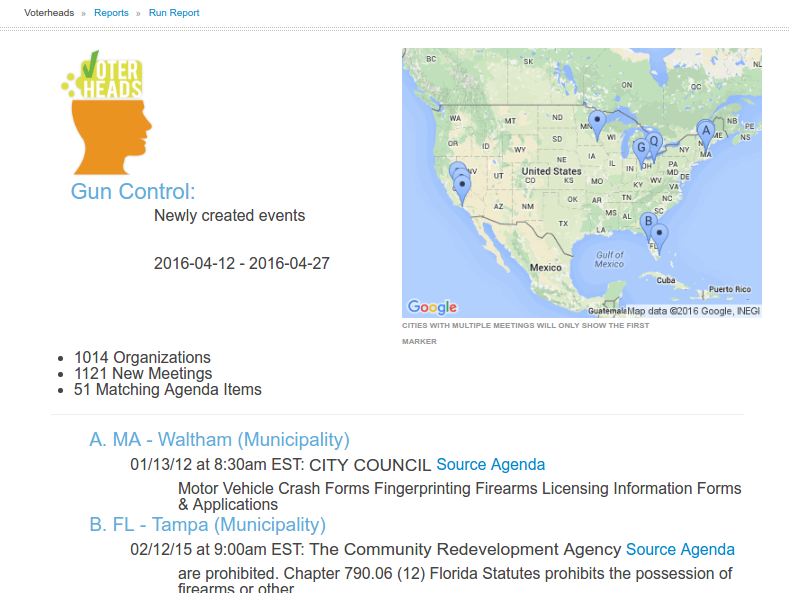 Schedule reports to fit your workflow

With Report Scheduling, you can pick a report type, a reporting period, and and a day of the week, and Voterheads will email your reports to you automatically on that day. Do you want a certain report every Monday, before your big staff meetings? Want a summary report for the month every second Friday for the monthly review call? Now you're in full control of the report content and its delivery.
How to get started:
Are you struggling to aggregate and track proposed policy changes across multiple jurisdictions?  Do

you have regular weekly and monthly government information needs? Voterheads Professional may be right for you! Visit us at our Signup Page to start making government magically easy at your company.